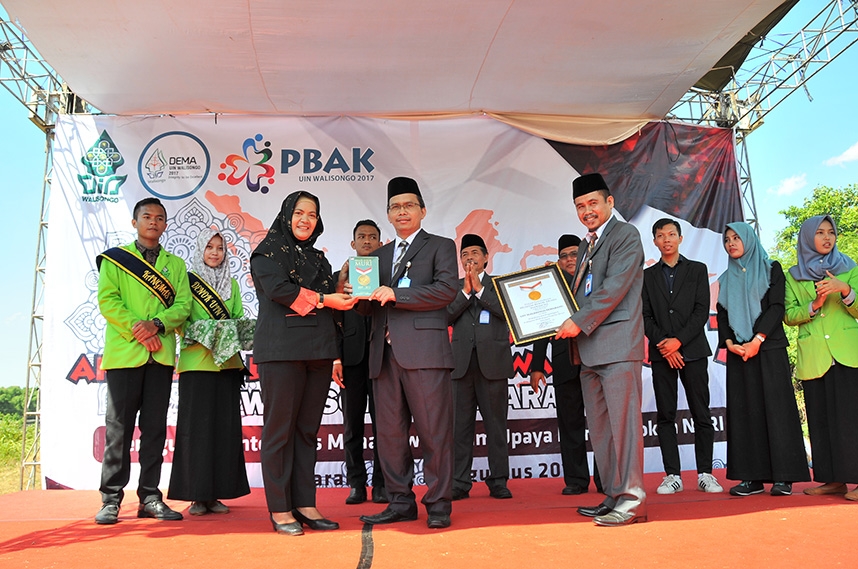 Semarang ai??i?? Universitas Islam Negeri (UIN) Walisongo berhasil meraih penghargaan Museum Rekor Dunia Indonesia ke 8055 dengan rekor Pemrakarsa dan penyelenggara konfigurasi MOB dengan tampilan kreasi terbanyak. Kreasi itu dilakukan oleh 3844 mahasiswa UIN Walisongo.
Piagam penghargaan Rekor MURI diterima Rektor UIN Walisongo yang diwakili Wakil Rektor 1 Bidang Akademik dan Kelembagaan Dr H Musahadi MAg didampingi Wakil Rektor 2 Prof Dr H Imam Taufiq MAg pada Senin, Tanggal 21 Agustus 2017 di Lapangan kampus 3 UIN Walisongo.
Sri Widayati, Eksekutif MURI mengatakan bahwa pada Senin, 21 agustus 2017, rekor muri indonesia mencatat rekor muri spektakuler, yaitu rekor Pemrakarsa dan penyelenggara konfigurasi MOB dengan tampilan kreasi terbanyak.
ai???Rekor ke 8055, mengalahkan UNS Surakarta yang menggunakan 11 konfigurasi MOB. Alhamdulillah Kami dari MURI berkesempatan hadir ke UIN Walisongo untuk mencatat rekor 13 MOB spektakuler.
Ia menambahkan, UIN Walisongo berhasil mengembangkan 13 kreasi kebangsaan, yaitu NKRI Harga Mati, HUT RI ke 72, Indonesia Raya Merah Putih, Garuda Pancasila, PBAK UIN Walisongo,Ai??Say No to Drug, Hubbul Waton Minal Iman, we are UIN WS. Tolak korupsi,Ai??Terorism has no religion, Kartini,Ai??Integrity to be Exelence.
ai???Sebanyak 13 simbol yang diperlihatkan oleh mahasiswa baru. Ini yang menjadikan Rekor Muri. Jadi bukan hanya banyaknya simbol tapi yang ditekankan adalah makna atau filosfi dari simbol tadi,ai??? tegasnya.
Mahasiswa juga menggelar kirab budaya dengan baju adat seluruh provinsi Indonesia.
Wakil Rektor 3, acheter du cialis en ligne Prof Dr H Suparman mengatakan bahwa moment Pengenalan Budaya Akademik dan Kemahasiswaan (PBAK) UIN Walisongo ini memang luar biasa. Ini adalah rekor yang kedua yang diraih UIN Walisongo setelah Rubuai??i?? Mujayyab terbesar tahun 2011 setinggi 4 meter.
ai???3844 mahasiswa baru peserta PBAK bisa meraih rekor MURI.Ai?? Kita bersyukur kepada Allah seluruh mahasiswa bisa meraih rekor muri dengan kerjasama dan kerja keras,ai??? katanya.
Meskipun berpanas ria, tapi mahasiswa sehatAi??wal afiyat. Mahasiswa cukup cerdas, bisa melakukan MOB dengan baik dan bagus. ai???selamat kepada panitia dan seluruh mahasiswa UIN Walisongo yang telah menciptakan rekor MURI dengan Formasi MOB terbanyak,ai??? tambahnya.