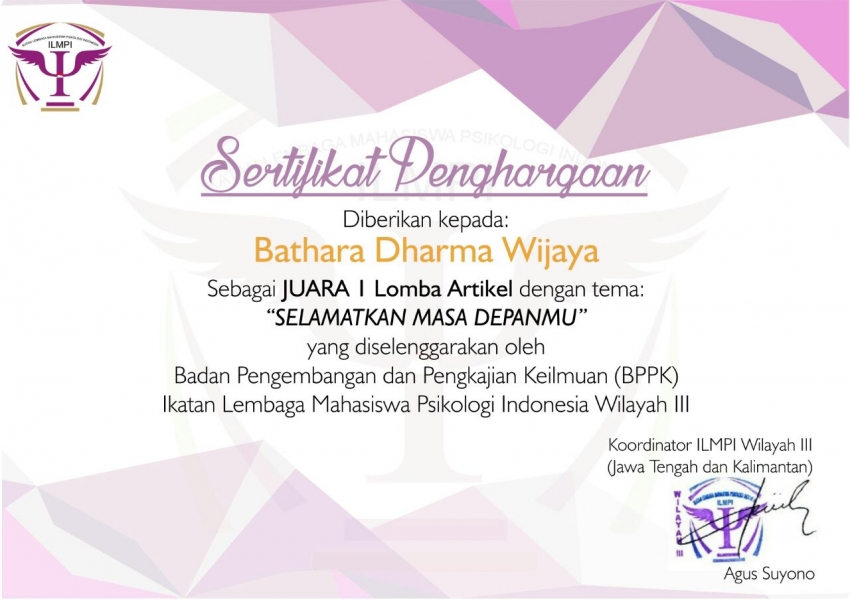 Semarang – Kabar gembira bagi sivitas akademika Fakultas Psikologi dan Kesehatan Universitas Islam Negeri (UIN) Walisongo Semarang setelah Bhatara Dharma Wijaya dikukuhkan sebagai juara 1 lomba artikel tingkat nasional. Lomba ini diselenggarakan oleh Ikatan Lembaga Mahasiswa Psikologi Indonesia Wilayah III. Mahasiswa jurusan psikologi asal Pekalongan ini berhasil menggeser puluhan peserta lainnya.
Bhatara Dharma Wijaya dikenal sebagai mahasiswa yang giat dalam bidang karya tulis. Ia lahir dan besar di kota yang dikenal sebagai the world city of batik, Kota Pekalongan. "Sekarang Bhatara masih menempuh kuliah jurusan Psikologi UIN Walisongo semester 2. Dan sebelum menempuh jenjang perkuliahan diberikan amanah sebagai petugas kebersihan di RSUD Bendan selama 2 tahun," tegas Wakil Dekan II, Dr viagra pas cher Hj Lift Anis Ma'shumah MAg.
Panitia penyelenggara mengusung tema "Suntikkan Semangatmu untuk Menjauhi Narkoba". Regional III ini diikuti PTN dan PTS yang berada di lingkup Jateng (Undip, Unnes, dll) dan Kalimantan. Dan mahasiswa psikologi UIN Walisongo mendapatkan piagam penghargaan yang ditanda tangani Agus Suyono selaku Koordinator PLMPI Wilayah III.
Keberhasilan mahasiswa UIN Walisongo menyabet lomba karya ilmiah ini memacu semangat Fakultas baru. Ternyata semangat mahasiswanya sangat luar biasa dan dapat dijadikan tauladan bersama.
Dekan Fakultas Psikologi dan Kesehatan UIN Walisongo, Dr H Darmu'in MAg menyambut baik prestasi mahasiswanya. "Selamat atas keberhasilan Mahasiswa FPK UIN Walisongo Semarang. Kalian tidak hanya sama dengan mahasiswa di Universitas yang besar di Indonesia, tetapi menjadi yang terbaik dan sukses untuk Ananda Bhatara," tegasnya.(r/hm)